For Employees
Making a regular savings contribution directly from your salary is the most efficient way of saving with Whitehaven, Egremont & District Credit Union.
Sign up for our Payroll Deduction Scheme. After the first months deduction has been received you can apply for an instant loan of up to £1,000 at an interest rate of 2%. The minimum repayment is 3 months. The loan must be repaid in full before another can be applied for. Benefits include free life insurance on your savings and loan.
If you would like to pay directly from your salary and your employer is not currently able to perform this deduction then ask your payroll department to contact WED Credit Union to see if a payroll payment system can be established.
For Employers
Why should employers set up a payroll deduction scheme for their employees?
Credit unions offer ethical, local investments
Payroll deductions offer a simple, convenient route to saving
Credit unions provide independent financial support to your employees
If employees take out credit union loans, this is a convenient and simple method of repayment
People who save regularly are better able to cope with any financial distress or unexpected cost
For no cost the employer provides a valued staff benefit which can help recruitment and retention of staff. Deductions are made via BACS and utilises systems your company most likely already has in place
Employees can improve their standard of living by accessing affordable loans for things they might otherwise be unable to afford to pay for in advance
Credit  unions foster a responsible attitude towards credit, assisting with the welfare aspects of being a caring employer
Employees who are members of a credit union will be more likely to see the benefits of membership and will be more persuasive to others
Increasing the customer base of local credit unions will make them more sustainable, so promoting them to your employees is a form of corporate social responsibilty
If you are an employer and would like more information on how to set up a payroll deduction scheme for the benefit of your employees please contact WED Credit Union.
We will be happy to meet with you and talk through the benefits of the scheme and are able to arrange a presentation for your staff to promote the benefits of joining WED Credit Union.
---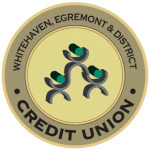 Sellafield Ltd Staff – How to arrange a payroll deduction from your wage?
Join the credit union via a downloaded form and forward on to us or alternatively complete membership form with one of our onsite champions at Sellafield Ltd Union Learning Centre 019467 88575 debra.c.hanlon-sloan@sellafieldsites.com or
david.a.riley@sellafieldsites.com
We require 2 forms of ID which can include Driving Licence/Passport, utility bill, council tax bill, bank statement etc.
Then you need to email payroll on NSBS.Payroll.Team@sellafieldsites.com, and let them know how much you want deducted from your wages and forwarded to Whitehaven Egremont & District Credit Union each month.
A £2 membership fee will be deducted from your first deduction.